October 1st & 2nd
HENRY C. CHAMBERS WATERFRONT PARK
DOWNTOWN BEAUFORT, SOUTH CAROLINA
Savor the best fresh-caught shrimp in the world during the 27th Annual Beaufort Shrimp Festival, featuring unique shrimp dishes from the region's foremost restaurants and chefs.
FREE ADMISSION
COME BACK NEXT YEAR FOR THE 2022 FESTIVAL SCHEDULE!
Interested in becoming a craft vendor?
We are now accepting applications for crafters who want to showcase their creative talent!
Please download our form

HERE

, fill it out and send it to wildscshrimp@yahoo.com.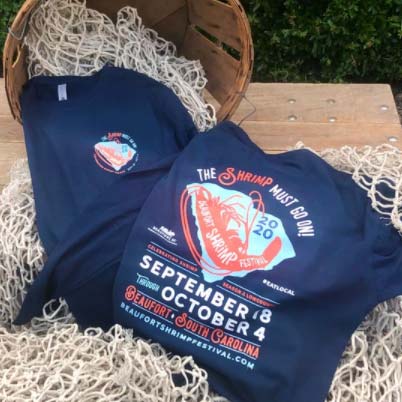 Missed Out On The Pre-order? Don't Worry!
Shirts will be available in person at the Shrimp Festival.
Sponsorship Opportunities Available
To get in on the Shrimp Festival 2021 celebration, email Ian Scott at ian@beaufortchamber.org. All businesses who love promoting fresh, locally caught seafood are invited to sign up.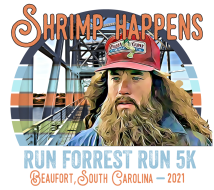 2021 Beaufort Shrimp Festival
Run Forrest Run 5k
The Beaufort Digital Corridor presents the 2021 Beaufort Shrimp Festival Run Forrest Run 5K Run/Walk, October 2, 2021, at 8:00 AM on Bay at Newcastle Street. Run the course where the movie Forrest Gump was filmed! This Forrest Gump-themed 5K will take you through historic downtown Beaufort and over the famous Woods Memorial Bridge. Take your picture with Forrest Gump at the start/finish line.
Run Forrest Run 5K Sponsors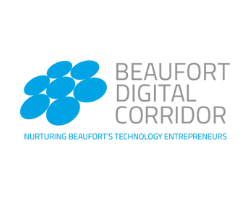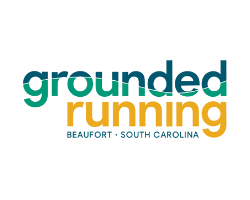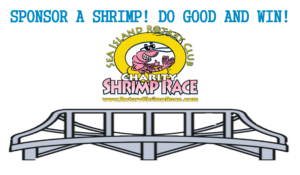 13th Annual Charity Shrimp Race
Sea Island Rotary Club
Highly trained and motivated rubber shrimp will mount their inner tubes and take to the water on Saturday, October 2nd, as the Sea Island Rotary Club presents the 13th Annual Charity Shrimp Race in conjunction with the 2021 Annual Beaufort Shrimp Festival. Great prizes, lots of fun – all while helping to raise money for our community!
To purchase a shrimp for your chance at the $30,000 grand prize, please visit www.seaislandrotary.org.
Cast your net and help our community through your sponsorship of a shrimp. Don't miss out on this wonderful event.