September 18th – October 4th
Beaufort, Port Royal & the Sea Islands, South Carolina
Savor the best fresh-caught shrimp in the world during the 26th Annual Beaufort Shrimp Festival, featuring unique shrimp dishes from the region's foremost restaurants and chefs.
Due to limitations on large gatherings and concerns about public health during the COVID19 pandemic, the Beaufort Shrimp Festival is being reimagined for 2020!
Instead of a single weekend event, Shrimp Festival Season will celebrate the fall shrimp season and highlight the region's culinary traditions spanning three weeks, from September 18th through October 4th, 2020.
We invite locals and Southeastern visitors to restaurants, shops, and outdoor venues across the Beaufort region over three successive weeks to enjoy the best of Lowcountry food and lifestyle.
Throughout Shrimp Festival Season, participating restaurants region-wide will feature a specially priced fresh shrimp "tasting menu" item and entrée and local shops will feature seafood-themed promotions.
Keep checking this website and our Facebook event page for the latest information and up-to-date list of participating restaurants to sample the bounty of our Lowcountry waters and celebrate the long tradition of the shrimping industry right here in Beaufort!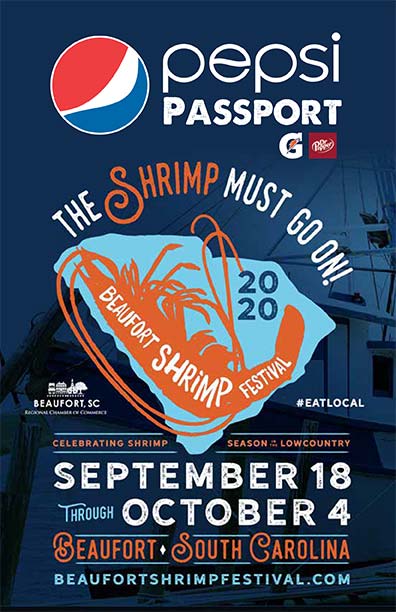 Get your Shrimp Festival 2020 Passport, your ticket to the best fresh seafood and a chance to win some great prizes!
Here's how it works:
Pick up a Shrimp Festival Pepsi Passport at any participating 2020 Shrimp Festival restaurant, at the Beaufort Visitors Center, or at the Beaufort Regional Chamber offices.
Dine-in or get take-out at participating restaurants anytime throughout the 2020 Shrimp Festival season, September 18 – October 4.
Collect a sticker from each eatery you visit. Passport holders who collect five or more stickers are eligible to enter the drawing to win prizes!
Turn in or mail your completed passport to the Beaufort Regional Chamber of Commerce by October 7th to qualify for a chance to win one of our many prizes! See Passport Rules for details.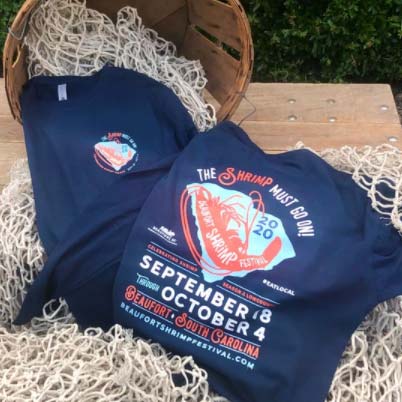 2020 Beaufort Shrimp Festival T-Shirts Now Available!
Remember this year's Shrimp Festival with a custom-designed "The Shrimp Must Go On!" t-shirt. Only $18 for short-sleeve and $24 for long sleeve!
Sponsorship Opportunites Available
To get in on the Shrimp Festival 2020 celebration, email Ginger Olszewski at ginger@beaufortchamber.org. All businesses who love promoting fresh, locally caught seafood are invited to sign up.